Western Welcome Newcomers
of Josephine County, Oregon
Meet People at Western Welcome Newcomers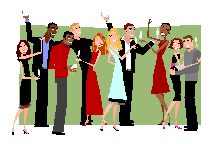 Welcome to Newcomers website!
Western Welcome Newcomers is an Oregon non-profit corporation comprised of Grants Pass residents who live within a 15-mile radius of the Grants Pass Post Office or live in Josephine County and wish to meet other residents who share common interests. Membership in the organization is $15.00 per person, for one year. Membership is payable on June 1, every year, and may be prorated depending on the date joined. The organization sponsors many different social events, which offer a variety of interests.
The group meets for a general meeting on the last Tuesday of every month (except December). There is a speaker or other entertainment for about an hour. Afterwards there is a general business meeting where upcoming events are discussed.
The meeting is generally held at the Fruitdale Grange, but Email Terry O'Dell
---
Western Welcome Newcomers
P.O. Box 386
Grants Pass, OR 97528

If there are any problems, questions or comments concerning the content of this site, please contact the webmaster at